Crystal-clear water, long sandy beaches, lush rice paddy fields, yoga retreats, massages…oh, and…families of monkeys swinging from tree to tree outside your villa. Bali truly is paradise on earth.
Myself and my other half had only been on one two-week holiday in eight years of being together, so the prospect of organising a three-week honeymoon was a little daunting. Having managed to bring the rain on most of our one-week holidays, I was not taking any chances this time. We were going far away, to somewhere with guaranteed sunshine and lots to do and see.
Taking a honeymoon in August meant that the Caribbean, Thailand and Vietnam were off our list. I turned my attention to Bali. A girl in the office had been there in August and had been raving about how it was "out of this world". I thought it couldn't hurt to see what it had to offer. Bali had only been in my consciousness for two reasons: the bombings in 2002 and 2005, and for the book Eat Pray Love. With a little bit of research I discovered it had everything we wanted, from bustling city life to rural relaxation.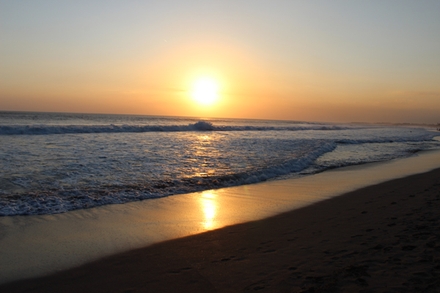 We booked our flights with Trailfinders and chose Etihad Airways. There was an eight-hour stopover in Abu Dhabi and the idea of sleeping on plastic airport seats or eating another McDonald's just to kill the time filled me with dread, so I booked the Days Inn hotel at the airport. (Being able to hop into a fresh bed for a few hours after a long, cramped flight meant it turned out to be the best €40 I ever spent – but we still ended up eating another McDonald's!) We decided to leave our hotel bookings as loose as we could because we planned on moving around a bit, and if we liked one place more we could stay on longer.
After three flights and a total of 19 hours in the sky, we arrived in Bali. Our first stop was Seminyak in the southern part of the island as we had read it had good beaches, loads of restaurants, bars and boutiques. We chose the IZE Hotel for the first few nights to get our bearings. The hotel was modern, futuristic in design and boasted huge bedrooms. Its bonus was that it was centrally located and reasonably priced. The only downside was that someone designed the rooftop pool area so that it was constantly in the shade. How was I going to make everyone at home jealous of my tan if I couldn't see the sun? A trip to the beach was in order.
Seminyak Beach stretches on for miles and if you fancied it you could walk to Kuta (think Spanish package holiday resort) or Echo Beach. We chose the stationary option. We rented sun loungers for €5 a day and were brought cool beers to quench our thirst. Seminyak is also home to some upmarket beach clubs where you'll spot the glamorous set. Potatohead and Ku De Ta were two of the best known ones we visited. Potatohead's striking design – imagine Rome's Colosseum made out of old, coloured wooden doors and shutters – gives it the edge above Ku De Ta. It's the perfect spot if you plan to stay the day on sun loungers waiting for Bali's epic sunset (which happens within a few minutes of 6pm all year round). The food was tasty – but the cocktails and music draw the crowds, so expect to queue.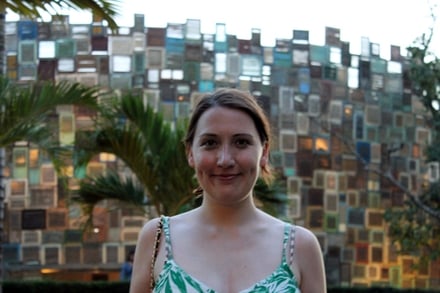 Seminyak is a food enthusiast's dream. One of the first things I noticed about the town is that the restaurants look like something straight out of an interiors magazine. This would give you the impression they are expensive but for westerners they are still affordable. Even in the more upmarket restaurants, main courses are generally around €10 (150,000 rupiah), while a 12-ounce rib-eye steak might set you back a whopping €12 (180,000 rupiah). Most restaurants combine Indonesian, Asian and Western influences, so there's something for everyone. Le Bistrot was our favourite. The first thing we noticed was the decor, which is vintage inspired and reminiscent of an Orient Express railway carriage. Huge floor-to-ceiling windows give it the wow factor. Wine is very expensive on the island due to high import taxes so expect to pay €37 for a house bottle. There is one cheaper white wine that is quite nice, a Balinese sauvignon blanc called Plaga, so look out for it if you fancy halving your alcohol bill.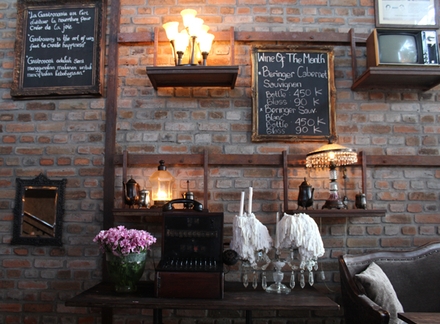 With all this eating and drinking we knew we had to leave Seminyak for a bit or we'd be returning home obese with a potential drinking problem. We opted to move on to Ubud, which is known as the cultural heart of the island. Many Westerners would simply know it as the place where Eat Pray Love is set. My other half had been banging on about wanting to do a yoga retreat, and I thought it was probably a good time to learn to compromise as I have heard that that's something one must do to have a happy marriage.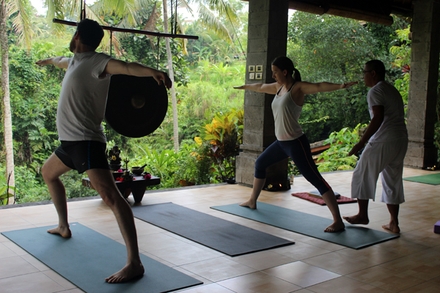 The thought of going to a yoga retreat had always scared me – conjuring in my mind images of Gwyneth Paltrow types who harp on about the benefits of kale and who shriek when they see someone eat hydrogenated fats. I wasn't sure if it would fit into my idea of relaxation – let alone honeymoon. I also knew that I was an ideal candidate for a yoga experiment as I'm all up-in-my-head most of the time and my brain never switches off.
Our 35km journey from Seminyak to Ubud took us two hours. Traffic is a huge problem on the island, so agree to a price before you get in. On arrival at ONEWORLD Retreats Kumara, I realised it was going to be exactly what I really needed. We were brought to our room, which was a little wooden cabin looking out on to the jungle. I suddenly felt my frantic pace slowing down. Claude the manager told me that the retreat group would be meeting at 8pm for dinner in Bridges restaurant. When we arrived we were introduced to each other and told not to sit beside our friends or partner. Hmmm, I started looking for the exit sign. Then we were asked three questions and each person answered around the table. "Waiter… fill me up." The questions and answers did soon break the ice, though, and I realised that half the table were nice yogis and the other half were looking to the retreat to give them a sense of peace.
The fun part over, the next morning we got up at 6.30am for our first yoga lesson. We all gathered in the terrace overlooking the jungle where our mats were laid out. Soon we were doing warrior poses and downward-facing dogs. Some could balance on their heads while others like me were happy just not to fall over. At the end of the two-hour lesson there was a real sense of calmness and achievement. I realised how lucky I was to be in this unique setting.
With the hard work done it was now time for treatments. My kind of holiday. This involved a 90-minute hot oil massage overlooking a rice paddy field, followed by a relaxing petal-filled bath. ONEWORLD Retreats have several yoga packages which include a range of mind-melting treatments. It's regarded as one of the best places of its kind in the world, and it's easy to understand why: the standard of everything there, from food to treatments to instruction, was way above our expectations.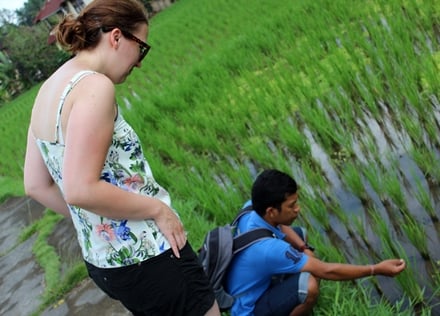 After all this pampering we wanted to get out and explore Ubud. There's nothing like seeing the tiers of lush vibrant green rice fields to make you feel like you are a long way away from home. We chose a guided tour with Wayan (whose name means 'first born'). He told us that Ubud has no shortage of water and rice grows all year round, generally in three different cycles, so no matter what time of year you go you can catch a harvest in some area. As we walked through the fields we stopped at the many art workshops located in the middle of the fields. There are dozens of them and the friendly artists will let you watch as they paint happily away in the sunshine. For €10 I am now the proud owner of a painting of a chicken.
Wayan, our guide, told us many facts about Balinese culture. They bury the dead because cremations are expensive and then after about five years of saving they dig up the bodies and have a communal cremation ceremony. Another interesting fact is that a Balinese baby does not touch the ground until they are three months old as they are seen to be divinities from heaven. Also, women cannot inherit anything.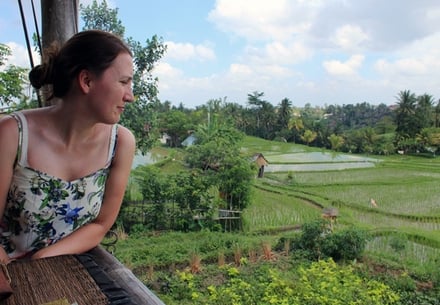 After the retreat we moved to Awang Awang Villas where we choose Villa Melah in the middle of the Ubud jungle. We had our own infinity pool and could watch the monkeys in the morning swing from tree to tree. This was pure paradise.
The great thing about Bali is that nothing is far away. One minute you are in the jungle and the next minute you are in Ubud town centre. Most hotels and villas include a shuttle to the nearest town or nightlife in their price. There is an abundance of bars and restaurants, including the famous Naughty Nuri's Warong. Be prepared to queue but her rack of ribs and potent margaritas are worth it. On the other end of the scale try the high end Locavore, which has a great tasting menu at an affordable price.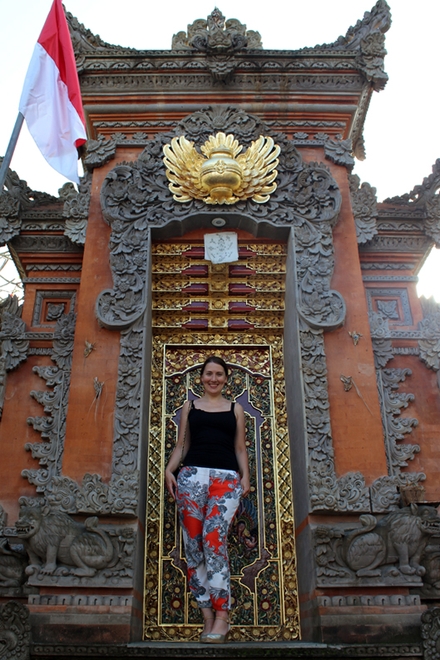 One thing to be careful of in Ubud is the footpaths. You could be walking along one minute and the next thing you know you are down a hole. There are just too many holes in the paths to count, and I can't imagine anyone with walking difficulties being able to navigate the streets.
There's a point in every couple's holiday as they gaze into each others eyes that they realise something very important…. they need to interact with other people. We decided to take a cookery course. We choose Payuk cookery school as we read that the teacher, Ketut (fourth born), was a character. There were about 12 people in our open-air class and Ketut, quite possibly the happiest man alive, taught us how to cook seven dishes. At the end of the course we all sat down together and ate our creations. The course costs 350,000 rupiah, which is a grand total of €22 – not bad for a whole day of tuition, laughs and a three-course meal.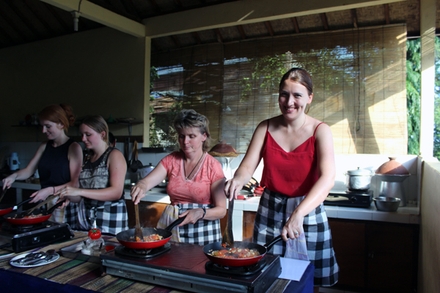 The cookery course was just one of our many great Balinese experiences. There's something in the mix of enthusiastic, passionate locals and wide-eyed, chilled-out westerners that creates a kind of magic. Sure, we had a few weird and frustrating situations due to Balinese people answering "yes" to every question, even when they didn't understand…but it's this same positivity that makes every day there seem so full of opportunity. Needless to say, we boarded the plane home with a heavy heart, wondering if we'd ever get the chance to return.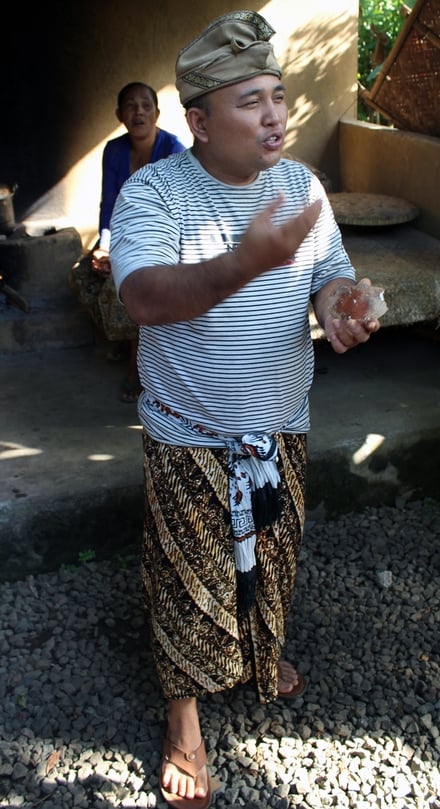 It's hard to find a single way to sum up Bali. It has something for everyone. You can find inner peace, climb a volcano, feed a monkey, go paragliding, do yoga retreats, have a massage or laze by the pool. It's as big, small, relaxing or crazy as you want it to be. The choice is yours.
Getting there:
Flights from Dublin to Bali on Skyskanner cost €574 flying with Malaysian Airlines in October. Etihad also have flights from €740. Expect to pay more in August when it's high season.
Currency: Indonesian Rupiah
Where to stay:
SEMINYAK: http://www.ize-seminyak.com prices start from €82 and includes breakfast. We booked through http://www.Agoda.com
UBUD: http://www.oneworldretreats.com   Escape the World package include 5 nights' accommodation, 15 well prepared meals, 5 morning meditation and yoga, 4 evening restorative yoga, 2 spa treatments, Volcano tour, bicycle excursion, rice field walk. Escape the World package costs (16,900,000 rupiah) €1,100 for single occupancy. There are many other packages to choose from.
UBUD: http://www.awangawang.com 5 different villas to choose from. Villa Melah cost from €173 euros a night. Included private pool and breakfast served in your villa.
Activities:
UBUD: http://www.payukbali.com – Cookery School (350,000 rupiah) approximately €22 euros
UBUD: Yoga House (www.ubudyogahouse.com ) located in the rice fields holds hourly classes at a rate of approximately (100,000 rupiah) €6.50 an hour.
This review was first published on RTE.ie.